meet the people who make the groove surgeons band the finest jazz funk band in the uk
THE BOSS
[the piano ain't got no wrong notes - Thelonius Monk]
Jody smith - musical director, keys
Jody ieads the music with The Groove Surgeons. Originally from Dublin, Ireland where he was a prominent performing and studio session musician he remains an active composer, and jazz keys performer in addition to his work with The Groove Surgeons. Jody has worked for prominent, internationally renowned musicians.
With his love of the genre and strong professional credentials, Jody defines the musical direction, song choices and arrangements and works with the players to provide leadership and musical arrangement.
THE HORN SECTION
[YOU BLOWS WHO YOU IS - LOUIS ARMSTRONG]
STeve grainger - saxophone
Steve is one of the UK's leading saxophone players with an extensive discography with some of the world's most prominent performing bands. Exceptional technique combines with rich vocabulary applied with imagination and impeccable timing.
Steve has played Sax for Boy George, The Beach Boys and a range of other well recognised artists, recording and performing across many genre.
Steve can lift the roof off any venue with powerful searing solo's, excellent form and time and a very high level of playing maturity.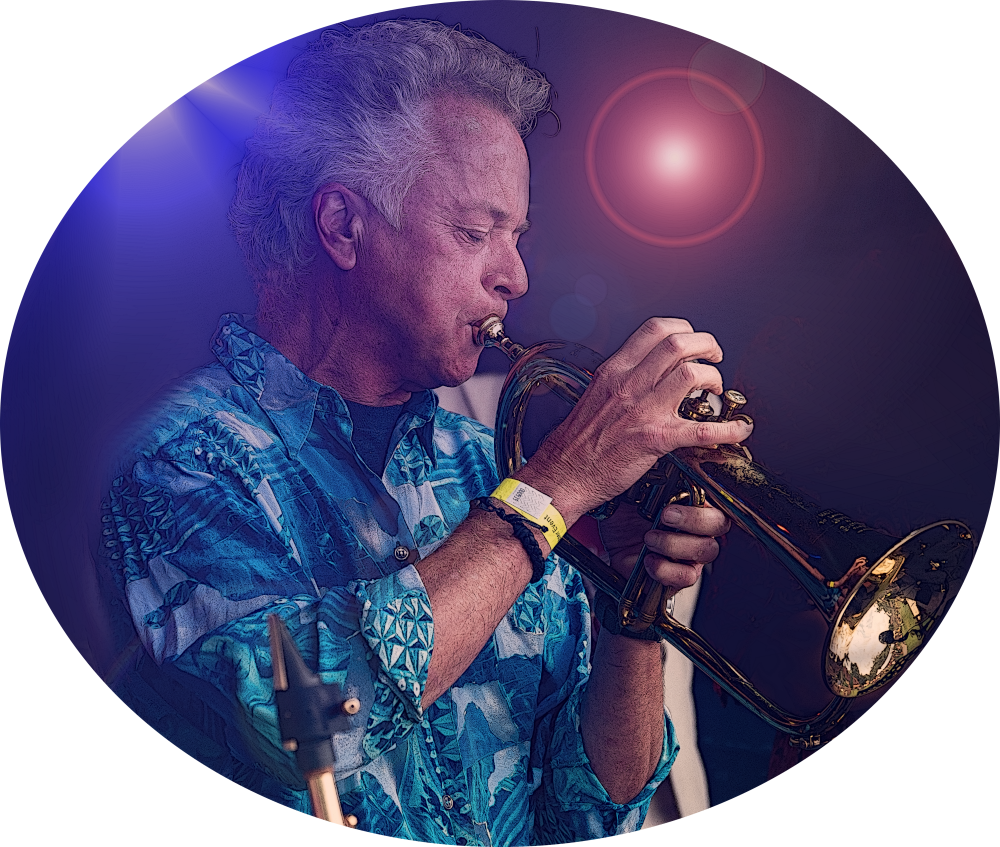 Stewart prosser - Trumpet
Stewart Prosser plays trumpet and flugelhorn for The Groove Surgeons. Stewart has a long established career as a professional player. Starting as lead Trumpeter with Hampshire Youth Band, Stewart also played trumpet for Paul Weller's The Style Council, Big Sound Authority and has been involved with many other projects..
Stewart has also played at The London Jazz Festival and The Montreux Jazz Festival. He is also involved in performing and composing classical music.
We love Stewart's creative flair, subtle approach, sense of fun, pace and natural instinct for composition in his solos.
We think Joel is one of the UK's hardest working and talented up and coming trombone players.
Currently in his final year of jazz studies at The Royal Academy of Music having just completed a year on exchange in Miami (where he learned to Be-Bop!). Joel is the youngest member of the band, but you wouldn't know that when you hear him play.
Joel brings a contemporary flair to trombone. Anchoring the The Groove Surgeons brass section, Joel excels in innovative dynamics, great rhythmic support and creative solo's.

He also likes to play percussion when he isn't blowing!
THE groove SECTION
[never lose the groove in order to find a note - victor wooten]
The inimitable Jerry Marques, is The Groove Surgeons drummer. A professional with 20 years experience he has played across funk, latin, rock and metal genres during his career. Jerry's larger than life personality reflects in his driving, tight, funky, playing.
At the age of 15, Jerry was playing drums late at night in clubs in Portugal. He plays with passion and vigour, providing an exciting rhythmic platform upon which the other musicians can build.
Jerry's Portugese background means Latin is in the blood and there is always the dynamic and spirit of Latin underlying Jerry's playing across whatever genre he plays. An animated individual Jerry can be as exciting to watch as he is to hear and feel.
Chaz is The Groove Surgeons bass player. He has over 30 years experience working across disciplines within the performing arts.
He's also a great bass player, working closely with Jerry the drummer to lay down deep, tight, funky groove and harmony that underpin keys, guitar and horns.
Chaz also has a long background in comedy having worked as an agent and as compere at high profile comedy events. This adds to Chaz's skills in helping to compere our performances, done with professionalism and humour.
When you book The Groove Surgeons for your venue or event, Chaz will be the man working with you on arrangements.
julian bradder - guitarist
Julian is an experienced musician whose first live performance was on the piano when he was 4.
Since then he has played in numerous bands across different genres and is also active in driving local community music events and in helping develop the confidence of young musical talent in the early days of their performing career.
He is also a fine guitar player providing The Groove Surgeons with funky harmonic drive and lead work and those wah-wah noises that put the sleaze into great funk!
prince brandon - percussionist
Recently joined, Prince Brandon is a flamboyant, charismatic addition to The Groove Surgeons. We once overheard him describing himself as "being a bit like Bez from the Happy Mondays but reconstructed for jazz".
Alongside all that charisma, he is a great percussionist who has a natural chemistry with Jerry the drummer. They do some great duo's together adding a whole new dimension to the sound we create.
When not playing the guiro, cow bells, wooden block or otherwise The Prince is also very well known on the UK south coast DJ scene under the name of Dr. Lovejoy.
THE GROOVE SUrGEONS - groove in our hearts